ALL THE FEATURES IN CENTRIQ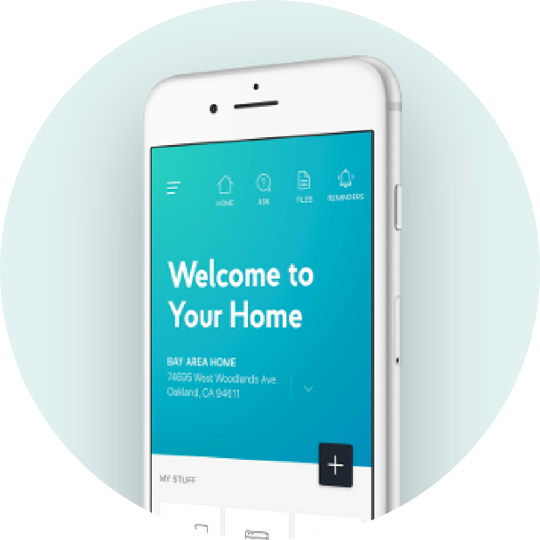 Centriq makes it easy to get manuals, parts, accessories and other information about your things. All you have to do is send us a product label photo - we do the rest.
Never scan another document, search for a folder, or dig around in a messy drawer for a manual again! Centriq automatically provides all of the information you need.
ANY DEVICE - ANY TIME
Use Centriq on your tablet, laptop, or desktop computer.
You can add photos, videos, documents and new items using drag and drop from your computer into the app. This also means that the same app works in the same way on all platforms (iOS, Android, Windows).
MAINTENANCE TASKS AND REMINDERS
Add a task with a reminder to any item in the app. We do this for you for refrigerator filters, but for anything else, simply open the item, go to MY TASKS and add any task that you want. You will receive a mobile notification and email when the task is due!
Review your list of scheduled and upcoming tasks by selecting "Tasks" from the menu.

ADD ANYTHING
Tap the plus button on the home screen to add any type of content: Items, photos, videos, receipts, documents, notes, groups, service providers, or a new address/property.
Store important documents or receipts by taking a picture or uploading an image or file from your device.
Use notes to store any information about your items, including clickable links to websites or videos.
Record live video directly to the app.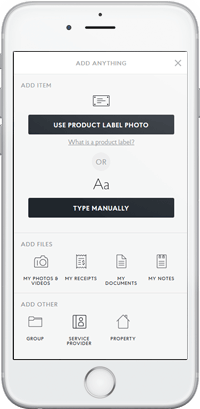 ADDRESS NOT REQUIRED
Whether on the web app or the mobile app, Centriq does not require your address to sign up, only a zip/postal code. In order to take advantage of advanced features later, we may follow up and ask for an address. But it is not needed for you to explore the application.
ADD YOUR OWN CONTENT
Add your own parts, web links, documents, notes or photos for an item and share it with other's in the Centriq community who own the same thing.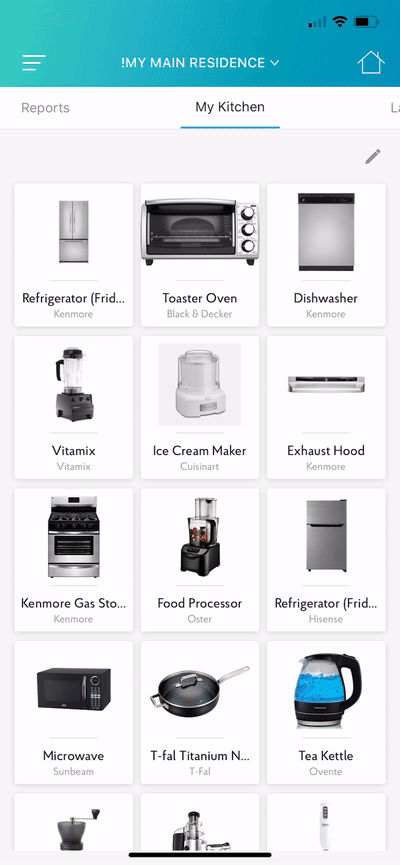 DOWNLOAD YOUR INVENTORY
Select "Export My Inventory" from the menu at any time to request a report of everything you have added in the app.
GET AN INSIGHTS REPORT
If you'd like to see your home and your things in an attractive report, contact us, and we will generate one for you.
*upgraded accounts only.
ADD PURCHASING AND WARRANTY INFORMATION FOR YOUR ITEMS
Open any item in the app and scroll to the bottom to the My Purchase Details section. Here you can add the store name,purchase date, shipping, installation, and warranty information for your item.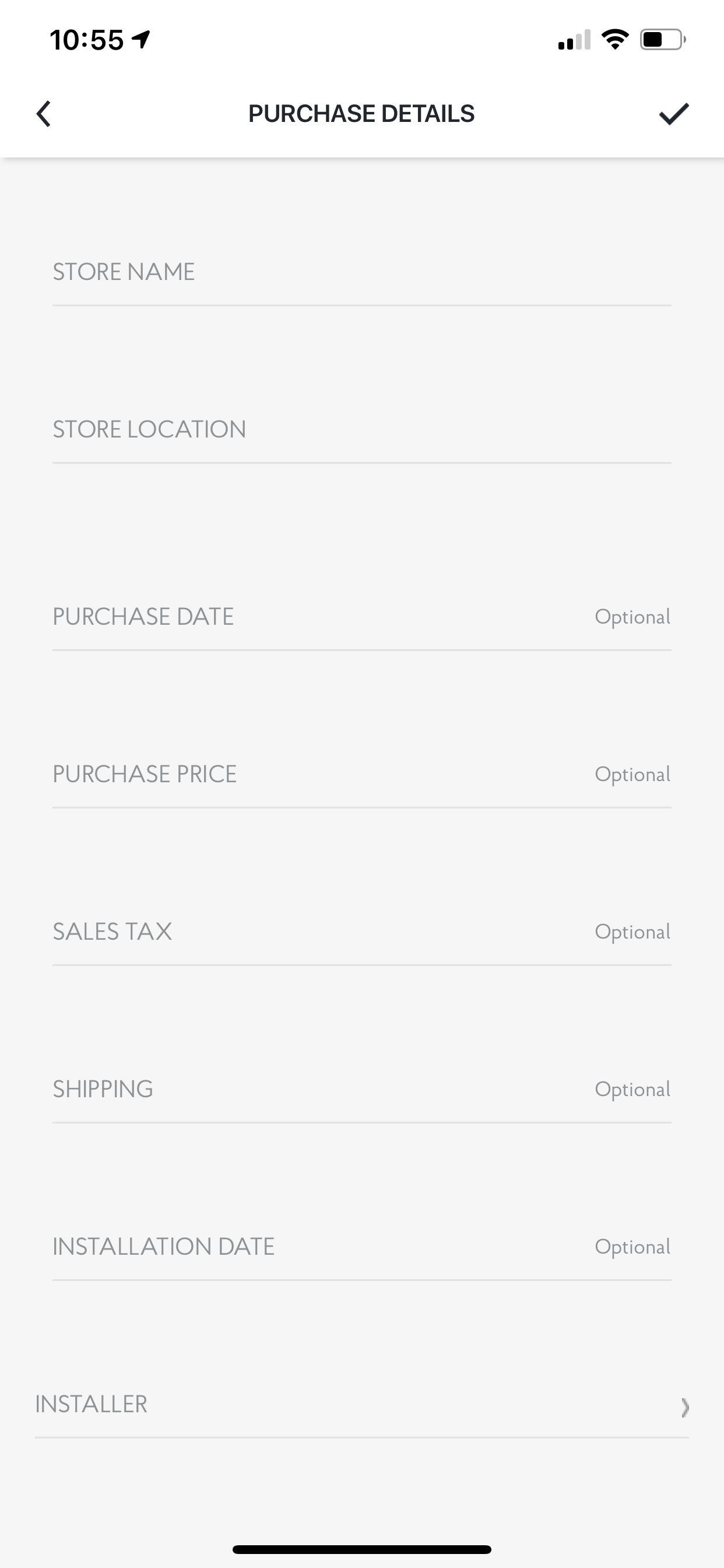 MANUFACTURING DATE, ITEM AGE, AND EXPECTED LIFE
We derive the age and expected life from the serial number.

If your serial number isn't captured during normal processing, you can enter it along with the manufacturing date by tapping on the pencil icon it the item detail screen.

The app will calculate the age and expected life for you based on this information.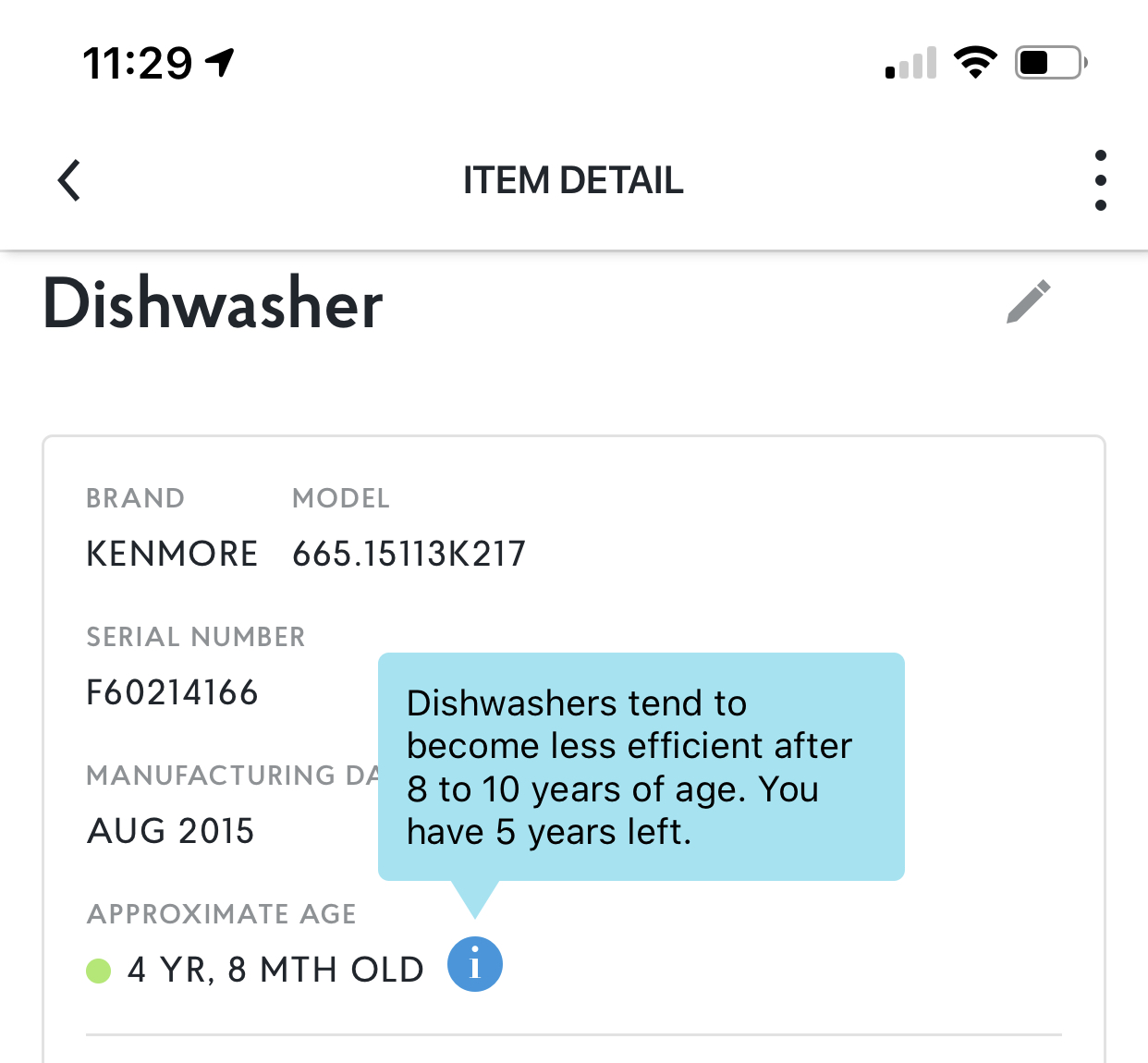 MOVE (ALMOST) ANYTHING
Move items, photos, videos, documents, notes and receipts between groups, and between items. The ability to move items or content between properties is a feature that will be coming soon.
You can also re-arrange the items in groups and the groups that appear on the home screen.
DIGEST EMAILS
Whenever we complete a new item that you added to Centriq, or new information is added to your items, we send you an email and a mobile notification to let you know about the changes to your account.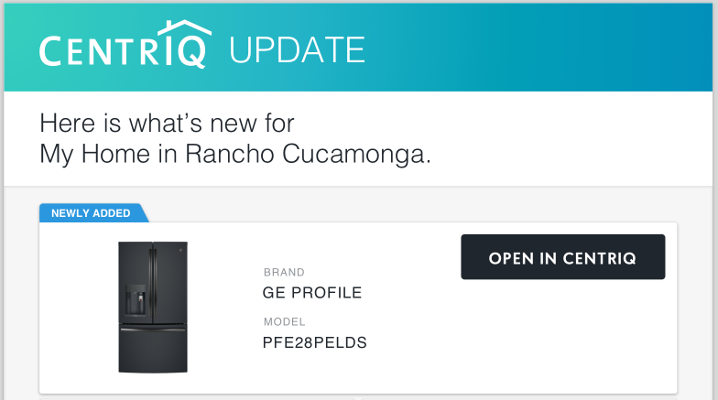 We also send you mobile notifications and an email if one of your items can not be identified or if it is recalled.
CONTENT AT ANY LEVEL
Add photos, videos, documents, notes and receipts to a main section related to the whole property, a group, or by individual item. Do you have a property appraisal? Add it to My Property Documents. Invoice for kitchen cabinets? Add it to My Kitchen Documents... and so on.
MANUALLY ENTER BRAND AND MODEL NUMBER
When you have a hard time finding the product label on an item, the product label is in a hard-to-reach place, or if you just know the manufacturer and model number and want to type it in rather than taking a photo of the item, you can type this in to fields in the app and submit to our service for processing.
If the manufacturer/model number combination are already in our database, the item contents are returned instantly.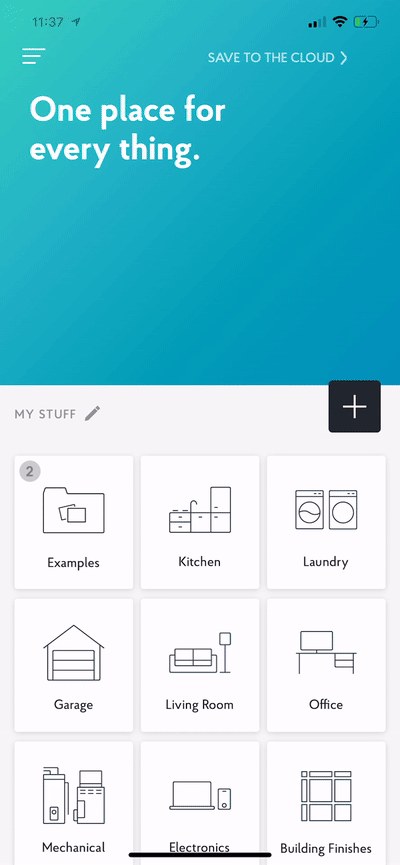 SUGGESTED GROUPS AND ITEMS
When you create a new account, Centriq automatically populates your home screen and the groups with suggestions of what you can add in Centriq. This will give you lots of great ideas of what kinds of things we will send back valuable manuals, parts, and videos to support.

RECALL MONITORING
Our robust safety recall feature makes it easy to know if you or your family are at risk from any of the products in your home.

Each year almost 50,000 fires are caused by defective products, and millions of products get recalled for the risk of fire. However, most people don't know if anything they own has been recalled — unless you use Centriq.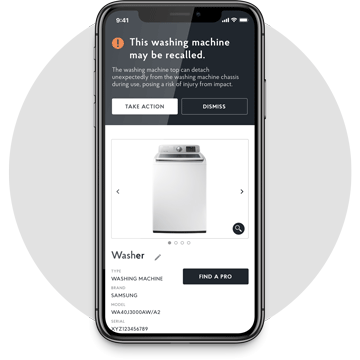 We'll track recalls for anything you add to Centriq and notify you as soon as a recall is issued. Quite the life saver, literally.
MORE CENTRIQ HIGHLIGHTS
Share the details of your item using a link that you can text, email or send using any share options on your device.
Share documents or images into the app from other sources using the share options on your device.

Photos and videos added in the app are also stored on your phone's photo roll.
Please visit our Help and FAQ section for more information.